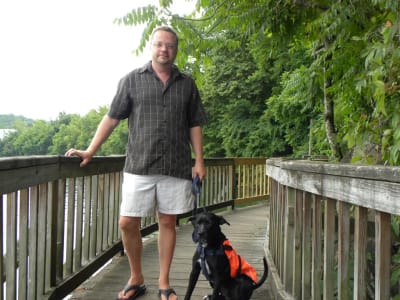 I have 25 years of experience volunteering and working with animals on a full time basis. Animals are my passion, and I enjoy nothing more than making them happy and content. My animals, and yours, are family and friends. Their needs always come first. I work from home with very flexible hours, as does my partner, so animals are rarely ever left alone. We have created a 2 acre dog park on our property, and have a large home and guest house for animal visitors. I enjoy taking dogs for car rides, to the many nearby parks, for walks around town, and to restaurants and dog friendly businesses.
My life revolves around animals. My partner and I take our animals, and guest animals, most everywhere we go. We visit nearby parks daily with our dogs and guest dogs - rotating visits between over 2 dozen parks so the dogs never get bored. When the weather doesn't cooperate, we take them to indoor dog friendly businesses like Lowes, Petsmart, Pet Supplies Plus, Tractor Supply, etc.
Our home and guest house are animal friendly, with animals having free range of the four bedroom home and/or 3 bedroom guesthouse. We are very clean, neat and organized. Animals that want to interact with our 3 dogs stay in the main house. Animals that are not comfortable with our dogs stay in the guesthouse. Animals are allowed on all furniture, and always sleep with us. Our 2 acre property was planned for dogs, with 1.5 acres fenced as a dog park. Outside of fenced areas, and on doggy outings, all animals are always kept on leash. We have years of experience with all varieties of dogs and cats, and are happy to care for special needs animals.
I work from home operating my own online business. My flexible schedule revolves around my animals and guest animals. Even when working, I am spending quality time with the animals.
Your animals will never be out of my site, and I will interact with them as much as they desire. Our home is a safe, clean and quiet environment.
VIEW & BOOK GARY'S DOG & CAT SERVICES ON ROVER.COM
What Gary would like to know about your pet
Please let me know about your animals' personalities, requirements, special needs, food and treat preferences, and any additional details that will help me keep your animals comfortable while in my care. Please provide me with current vet information, an emergency contact who can make decisions while you are away, and other important care information such as feeding instructions, bathroom routines, and exercise schedules.
VIEW & BOOK GARY'S DOG & CAT SERVICES ON ROVER.COM
Additional Skills
Oral Medication Administration
First Aid/CPR
Special Needs Dog Experience
Injected Medication Administration
Senior Dog Experience
Can provide daily exercise
VIEW & BOOK GARY'S DOG & CAT SERVICES ON ROVER.COM
About Gary's Home
Lives in a House
Non-Smoking Household
No Children Present
Has a Fenced Yard
Has 3 Dogs, No Other Pets
VIEW & BOOK GARY'S DOG & CAT SERVICES ON ROVER.COM
When Gary watches your pet
I love to interact with animals and will keep your's busy throughout the stay. I take dogs to nearby parks and provide a 1.5 acre dog park on my property. I send multiple daily photos and video updates that show how much fun your animals are having such as playing in the yard, cuddling, and going for hikes. My goal is to give your animals the same experience they get at home, or one that's even better! I try to match their routines and throw in some extra fun to make the stay memorable.
VIEW & BOOK GARY'S DOG & CAT SERVICES ON ROVER.COM
In Gary's Home
Dogs Allowed On Bed
Potty Breaks Every 0-2 Hours
Dogs Allowed On Furniture
VIEW & BOOK GARY'S DOG & CAT SERVICES ON ROVER.COM
$20 Off Your First Booking With Promo Code: GARYB49836