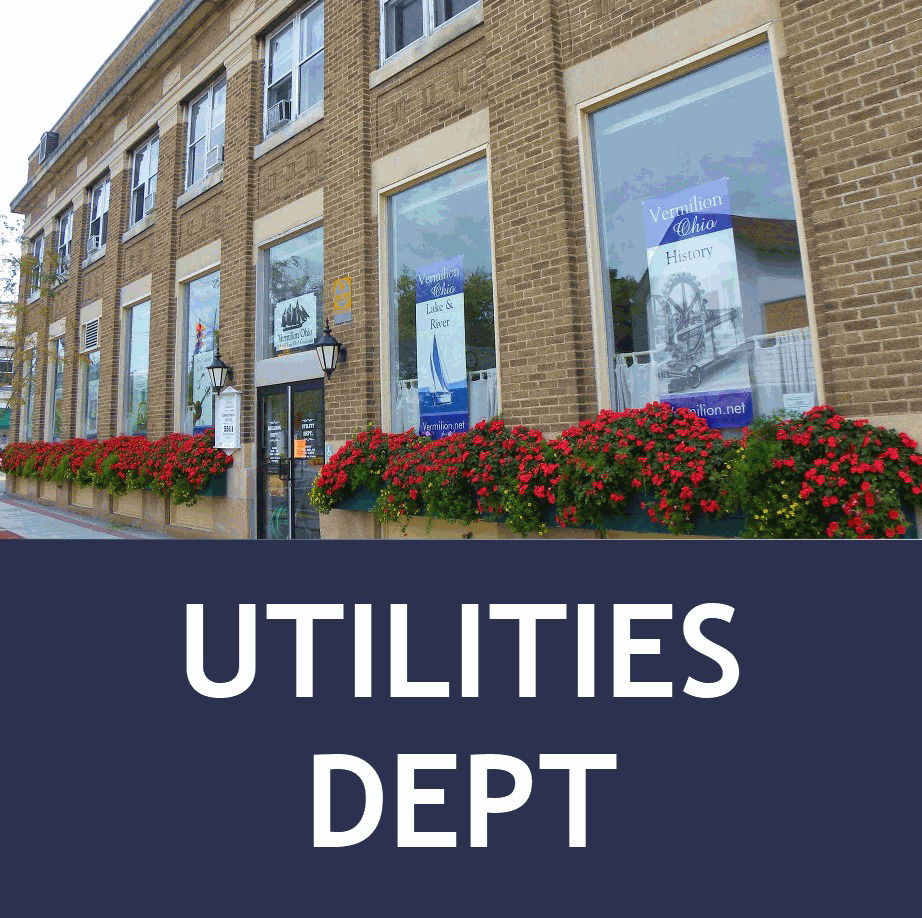 City Administration Building
5511 Liberty Avenue, Vermilion, OH 44089
Utility Billing Clerk:
(440) 204-2420
Email: Utility@vermilion.net
---
Hours
Pay Your Bills in Person 8 am - 4:30 pm Monday through Friday. Emergency service:
(440) 204-2450
(This telephone number rings to the Water & Sewer Service Plant which is manned 24 hours per day. Emergency workers can be called out from that number.)
---
About
The Utilities Department consists of the Water Treatment Plant, Water and Sewer Distribution Department and Wastewater Utilities Plant. The Utilities Department is in charge of water and sewer lines.
---
Utilities Forms
Discountinue Garbage Form
|
Senior Garbage Form
|
Auto Payment Form
---
Utility Bills
You can pay your utility bill in person at the City Administration Building Monday through Friday from 8 am to 4:30 pm. Bill payment can also be made at Drug Mart, or through automatic deduction from your checking account.
---
Online Bill Payment
Visit the Online Bill Pay page to learn about payment options and access the payment portal to pay utility bills with a credit/debit card or electronic check, set up automatic payments, enroll in paperless and more. You can also now check your account balance or make a payment 24/7 by calling 844-813-4736. Note: Service Fees Apply For Online Payments: Online payment service fee: $3.25; Phone payment service fee: $4.20.

---
Automatic Bill Pay Through Deduction
Auto Payment Form
Auto-pay option occurs no fees. The form can be mailed or dropped off at City Hall. Residents can also pay through their own bank account; there is no charge.

The City of Vermilion now offers customers the option of paying their utility bill electronically. Funds are transferred from the customer's checking account directly to the City to pay for all services that are on the City's utility bill. Simply complete the authorization form and return it to the City along with a voided check. This will help ensure that your transactions are appropriately posted. Allow 2-3 months for processing and withdrawals to start. Continue to pay your bill via other methods of payment until a message appears on your bill showing the withdrawal of electronic payment. Payments are deducted on the due date of your billing statement each month.

The City of Vermilion's bank will instruct your bank to deduct the entire amount of your utility bill from your checking account. Your bank will deduct your payment amount and forward the payment electronically to the City of Vermilion's bank. The payments will be shown on your monthly statement from your financial institution. The City will continue to mail your utility bills to you as usual. However, in the message box on the bill it will clearly state that your account has been set up to have payments made electronically.

If you have questions or concerns regarding your bill or the amount due, you should contact the Vermilion Utilities Billing Department at (440) 204-2420. If you no longer want to pay your bill by electronic payment, please notify the Vermilion Utilities Department 30 days in advance in writing that you want to stop paying your bills electronically.
---
Consumer Confidence Report
The City of Vermilion Water Dept. has prepared the following report to provide information to you, the consumer, on the quality of our drinking water. Included within this report is general health information, water quality test results, how to participate in decisions concerning your drinking water, and water system contacts.
Electricity
---

Garbage & Recycling
The City of Vermilion contracts with Allied Waste Services for garbage pick up.
Republic Services
40195 Butternut Ridge Road, Elyria, Ohio
Phone:
(800) 433-1309
www.republicservices.com
To view the holiday schedule for your specific address, visit https://www.republicservices.com/schedule.

Contact the Utilities Department to find out what day your refuse will be picked up.

General Information
Please have your rubbish and recyclable materials placed to the curb by 6 am on collection day.
Collections are not made on these holidays: New Years Day, Memorial Day, Independence Day, Labor Day, Thanksgiving Day, and Christmas Day. If any of these holidays fall on your garbage collection day, the collection will be delayed one day.
Residential Refuse Service
Please place your residential refuse in the containers provided by Allied Waste by 6 am on your collection day.
During the first full work week of each month, bulk items can be placed on the curb for pickup.
Recycling Service
Please set your recyclables out on the curb in the green container provided by Allied Waste by 6 am on your collection day.
It is not necessary to put out the container every week, only when full.
Items to Recycle
Aluminum, newspaper, cardboard, bi-metal and steel cans, glass bottles & jars, and #1 through #7 plastics may be placed in the blue container.
Yard waste should be placed in a separate brown paper kraft bag each week from April 15 through November 30.
For more information on recycling: www.dnr.state.oh.us/recycling
Rubbish Rules & Regulations
What to put in the Trash Container:
All household generated garbage that will fit in the container with the lid closed. All household garbage must be bagged when placed in the container.
What not to put in the Trash Container:
Hazardous waste, paint, chemicals, motor oil, liquids, dead animals, hot ashes, car parts, tires or car batteries.
Recycling Rules and Regulations:
Recyclable material should be placed loosely into the recycle container. Please rinse out any and all containers listed below.
Acceptable Materials:
Entire newspaper including inserts
Aluminum, Steel and bi-metal cans, food and beverage cans only
Glass: Bottles and Jars, food and beverage bottles only
Plastics: Food and beverage containers marked #1 thru #7
Plastic Detergent and soap containers: containers marked #1 thru #7
Miscellaneous paper: Magazines, junk mail, cardboard and paperboard (cereal and clean pizza boxes)
All kinds of cartons: Milk, Juice, etc…
Non-Recyclable Material:
Containers with excessive food or liquids still in the container
Containers that contained hazardous materials such as oil, pesticides, herbicides or anti-freeze
Styrofoam, aluminum foil, pie tins, etc…
Window glass, mirrors, drinking glasses, light bulbs, ceramics, china, etc…
Plastic bags, plastic wrap, flower pots, toys etc…
Scrap metal, car parts, batteries etc…
Do not put any Yard Waste in recycle container.
What if I have more trash than will fit in my Trash Container:
If you are taking advantage of the Recycling program in your community, most household trash will fit into the container provided. If necessary, you may have an option to have an additional container(s). There may be an additional fee for this increased service. Please contact Republic Services to discuss.
Yard Waste Regulations:
Grass clippings and other yard waste should be placed in brown paper bio-degradable bags or loose in 32 gallon plastic cans clearly marked with "yard waste" or "YW" and not to exceed 40lbs. Small branches must be cut and bundled not to exceed 4ft in length or 40 lbs. Plastic bags, dirt, stone or branches larger than 6 inches in diameter will not be collected with yard waste.