Harbourtown Fine Arts Center seeks to preserve the past and build a future centered around the fine arts in Vermilion, Ohio. Located in the Vermilion Old Town Hall and Opera House, the Center hopes to restore the iconic building that is listed on the National Register of Historic Places.
Built in 1883 and completed in 1884, Old Town Hall was the center of the village of Vermilion government for over a century. The red brick building housed council meetings, the Vermilion Police Department, a social hall, and three smaller rooms used for administrative offices and concessions. Now the Harbourtown Fine Arts Center envisions the space being used by artists and musicians and other fine arts businesses.
Harbourtown Fine Arts Center was formed as a non-profit corporation in September, 2018 dedicated to making the fine arts accessible to the Vermilion community. The Center offers a variety of performing and fine arts classes, as well as performance and exhibition opportunities to artists in Vermilion and surrounding communities.
Spaces are being rented out on the first floor of Old Town Hall, while the second floor, housing the Old Town Hall Opera House, is being renovated as a theater to be available for Vermilion to enjoy once more.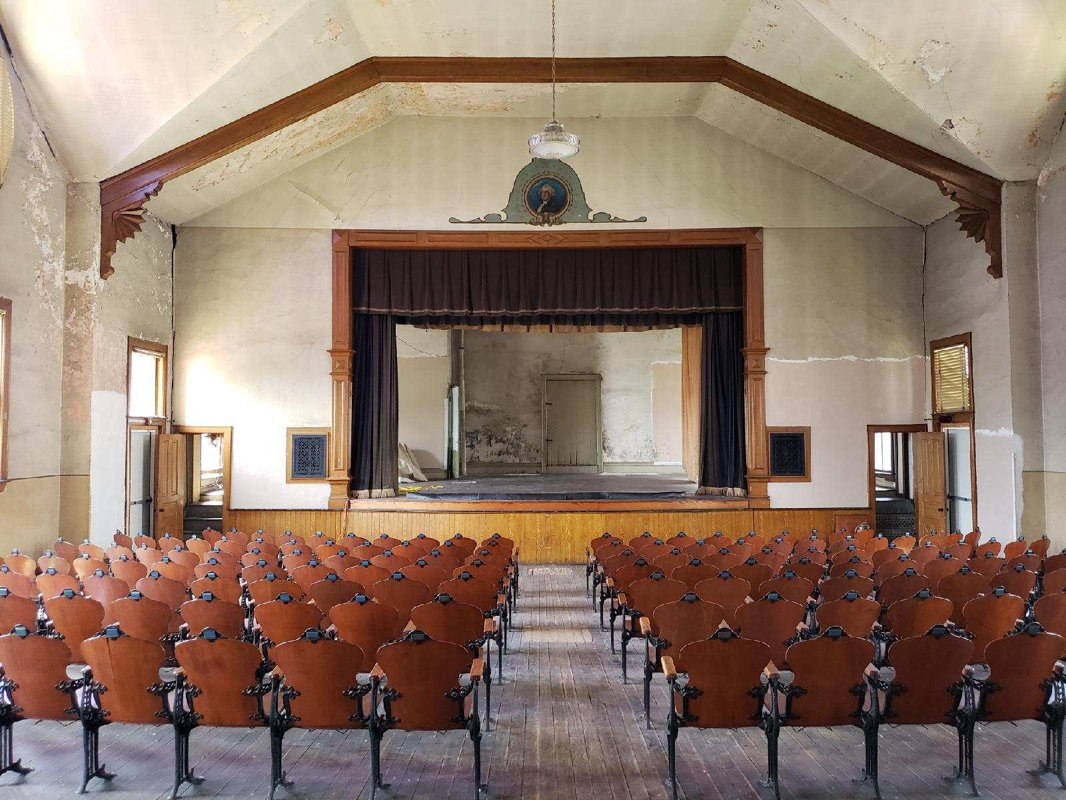 The Old Town Hall Opera House, complete with original curtains, polished wooden chairs, ornate woodwork, and stained glass windows, is truly a hidden gem. For over 100 years it was used for concerts, variety shows, theater productions, medicine shows, traveling minstrel shows, prize-fighting contests, and more. The goal is to bring the Opera House back to life and maintain it as a community theater for generations to come.
Restoration work already completed includes a new roof and electrical upgrades. Harbourtown Fine Arts Center plans to work on the exterior brickwork in the near future. The organization will apply for grants, host fundraisers, and solicit donations to restore the building.
As in the past, the Old Town Hall will also be available to rent for small occasions. It is the perfect location for showers, small receptions, parties and small performances.
Brittany Drost, founder and executive director of the Harbourtown Fine Arts Community Center, operates Harbourtown Dance Studio, now located at Old Town Hall. Since opening in 2013, the studio has grown tremendously. Harbourtown Dance Studio presents two different shows throughout the year, competes nationally, and also participates in a number of community events in the Lorain County area. Drost acts as the executive and artistic director, as well as choreographer, and teaches advanced jazz, contemporary, and ballet classes.
Harbourtown Fine Arts Community Center and Theatre and Harbourtown Dance Studio are located at 736 Main Street in downtown Vermilion, Ohio. For more information, call (440) 315-1467 or visit www.harbourtownfinearts.org.