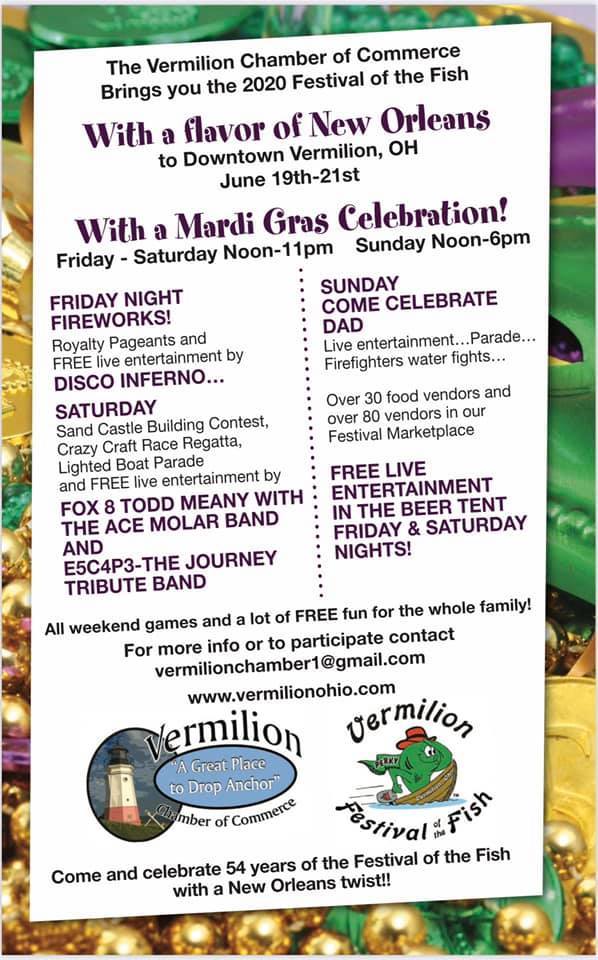 The Vermilion Chamber of Commerce announces the 2020 Festival of the Fish will offer a flavor of New Orleans with a Mardi Gras Celebration June 19th - 21st. An amazing entertainment line-up will be offered. The full schedule of events will be released at a later date. Start planning for a Mardi Gras theme for the Fish Fest Sand Castle Contest, Crazy Craft Race, Parade and Lighted Boat Parade.
The City of Vermilion celebrates the Festival of the Fish Father's Day weekend, June 19 - June 21, 2020. Join in this celebration of the sea in downtown Vermilion with free, daily entertainment, kid's games, food and marketplace, fireworks, and parades. Don't miss the lighted boat parade, pet parade, sand castle building contest, crazy craft race, Queens's pageant, antique wooden boat parade and firefighters water fights.
On Friday young girls vie for the coveted title of guppy, princess, little miss and queen in one of the largest festival pageants in the county. Kids games take place at the gazebo. At noon the Midway opens with delicious foods and spectacular craft vendors. The pet parade steps off at 12:30 pm. The princess pageant begins at 2:30 pm with the opening ceremonies following at 6:00 pm. The Queens Pageant begins at 6:30 pm.
On Saturday the day kicks off with a 5 K run and 1 – mile walk sponsored by the YMCA, and a sand castle contest at Main Street Beach. Crazy craft races take place at 1 pm on the Vermilion River. The event is open to all, so all you need is a little imagination to build whatever vessel inspires you. The annual lighted boat parade sails at dusk on the Vermilion River. Enjoy the wonderful boats as they move from the Port Authority docks to the break wall.
On Sunday, the annual Father's Day Parade steps off at 12:30 pm. Don't miss the wet and wild firefighters water fight immediately following the parade.
Food, entertainment, vendors, games and beverages are offered each day beginning at noon in and around Victory Park. Live entertainment is offered nightly on the main stage.
Festival Of The Fish Highlights
Festival of the Fish Fireworks
Lighted Boat Parade
Crazy Craft Race
Antique Wooden Boat Parade
Queen's Pageant
Princess Pageant
Guppy Pageant
Little Miss Pageant
Vermilion YMCA 5K Run
Sand Castle Contest
Vendors, Entertainment, Food
Exchange Park Market Place Crafts and Collectibles
Father's Day Parade
Firefighters Water Fight
Brought to you by the Vermilion Chamber of Commerce. For more information, call (440) 967-4477, emailvermilionchamber1@gmail.com or visit www.vermilionohio.com.