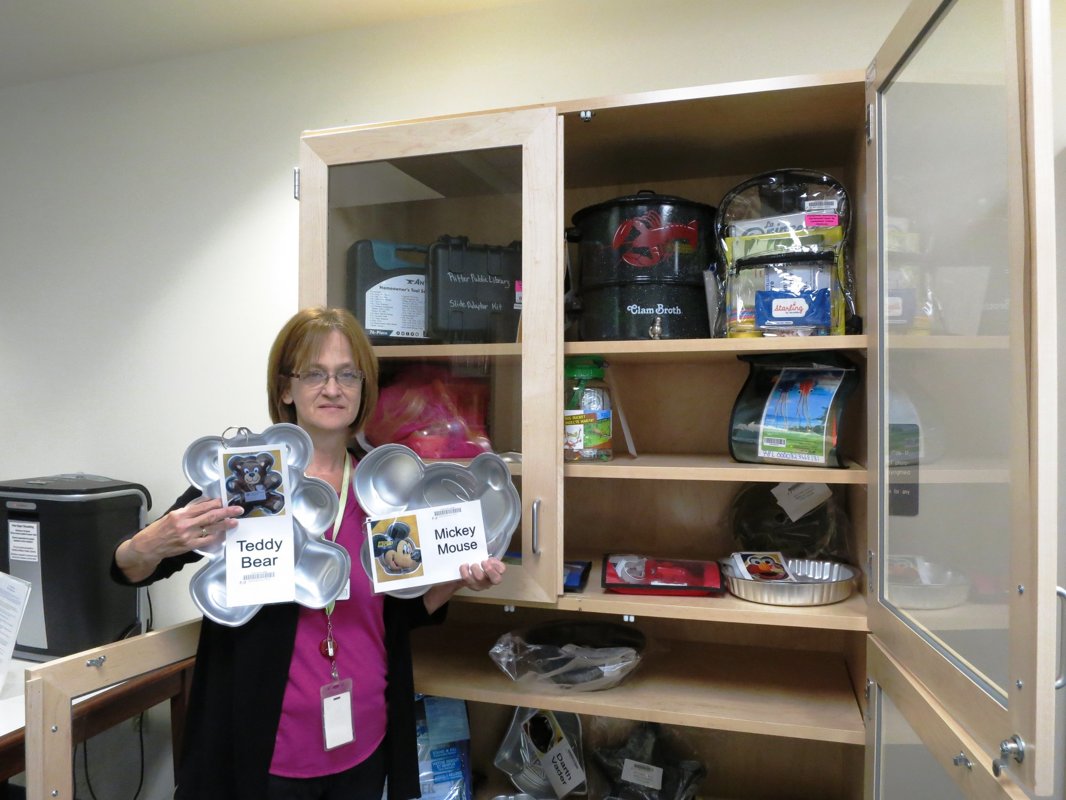 Did you know you can borrow specialty items from Ritter Public Library, including cake pans, binoculars, folding table and benches, even a Go-Pro camera and a slide scanner that can convert your 35 mm slides to digital files?
All Make, Take & Borrow kits are available to check our for one week. Late fees are $1 a day.
Party Kits
Graniteware Lobster / Clam Pot and 16-Piece Crab or Lobster Utensils
Crown Cake Pan
My Little Pony Cake Pan
Dinosaur Cake Pan
Elmo Face Cake Pan
Wilton Bundt Pan
Nordicware Bundt Pan
Star Cake Pan
Springform Pan
Star Wars Cake Pan
Teddy Bear Cake Pan
Giant Cupcake Pan
Mickey Mouse Cake Pan
Stars and Stripes Cake Pan
Baby Buggy Cake Pan
Cake Decorating Turntable & Supplies
Easter-themed and Flower Cookie Cutters
Holiday Cookie Cutters
Autumn Leaf and Pilgrim Cookie Cutters
Haunted House Cookie Cutters
1 6' Folding Table
2 6' Folding Benches
Hobby Kits
GoPro Kit includes: GoPro HERO Cam — needs micro SD card GoPro Headstrap Mount Floating Hand Grip Carrying Case Electronics Kits Kodak Digital Film & Slide Scanner — needs SD card Microphone Recorder — needs micro SD card Toys Octopus Kites Beach Toy Kits Stikbots stop-motion animation toys Learning Kits Microscope Slide Set w/ Case Bug Collecting Kit I Taught Myself Crochet Beginners Kit Teach Yourself Knitting Kit Starling Early Learning Kit Birding Kit includes: Backyard Birding Guide Waterbirds Birding Guide Birding 101 Pocket Guide Backpack Celestron Binoculars Children's Binoculars Dremel wood-burning toolkit 2 Tool boxes
In Library Use Only
May require purchase of materials
Office Kits
Laminator
Rotary Paper Trimmer / Cutter
Long-reach stapler
Button Maker
Ritter Public Library is located at 5680 Liberty Avenue in downtown Vermilion, Ohio. Call (440) 967-3798 for more information.