Last week, Mayor Forthofer and Service Director Valerius presented Fire Chief Stempowski with a Certificate of Occupancy and the keys to the new Fire Station #1. The COO states that the new building meets all codes and ordinances and is safe for occupancy.
"Over the next few months Chief Stempowski and the firefighters will be moving equipment and vehicles from the old Station #1 on Ohio Street and Station #3 at the Service Center," stated Mayor Forthofer.
The new station is located at Douglas Street and Devon Drive. The project was funded by the tax dollars paid into the Fire Capital Fund over the years and a low interest bond secured in 2019.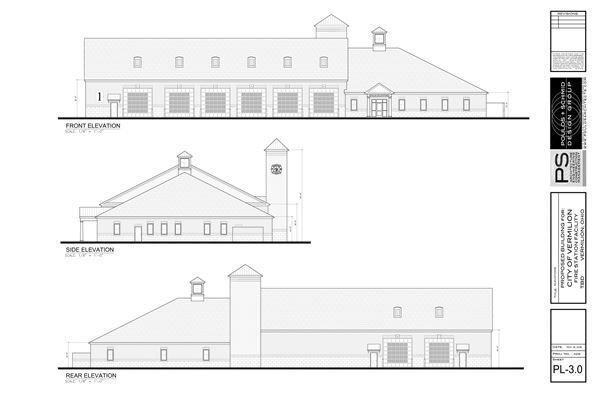 The Vermilion Firehouse One Committee recommended to Vermilion City Council on November 19, 2018 a $3.7 million project to construct a new fire station, replacing Station No. 1 on Ohio Street. Vermilion City Council voted to approve the submitted plans.
The old station, No. 1, was built in 1954. At that time fire engines were the size of a large SUV. When the current modern engine is parked in the house, it takes four men to guide it into place with six inches to spare on the left side and three inches in the back. Also, when original engines were called out, they left the bay and headed to the call. The length of the current truck requires a three-stage pull out to get it positioned on the street to begin making its run.
The Vermilion Firehouse Committee examined options, such as buying up residential houses, to create a drive through. It would be costly and compromise the look of historic downtown, according to the Committee. Plus there is no place for drying racks, showers or beds. Even though the department is volunteer, there are times, such as snow storms, when Vermilion Fire Department personnel are required to sleep on station for fast response. Currently they are sleeping on the seats of the engine, the floor, etc.
The chief's wish list included everything currently housed at station No. 1 with the addition of a training room, inside drying rack, decontamination station, a few beds, command center, cleaning station and expansion room.