Tranquil Lake Yoga & Wellness in Vermilion, Ohio is offering classes. The Yoga & Wellness studio is located at 678 Grand Street in downtown Vermilion.
As an intimate yoga, group fitness, and health coaching studio in the heart of downtown Vermilion, Ohio, Tranquil Lake is honored to serve the wellness needs of Vermilion and its neighboring cities. Tranquil Lake is pleased to offer a wide range of yoga classes, with focuses varying from gentle adaptive yoga to invigorating yoga sculpt. In an effort to complement and strengthen our student's yoga practice, Tranquil Lake also features Group Fitness classes, concentrating on such areas as Tai Chi and Belly Dance. As the final step to well rounded health, Tranquil Lake provides private and small group health coaching assessments, health coaching visits, and private yoga, belly dance, reiki, and fitness sessions.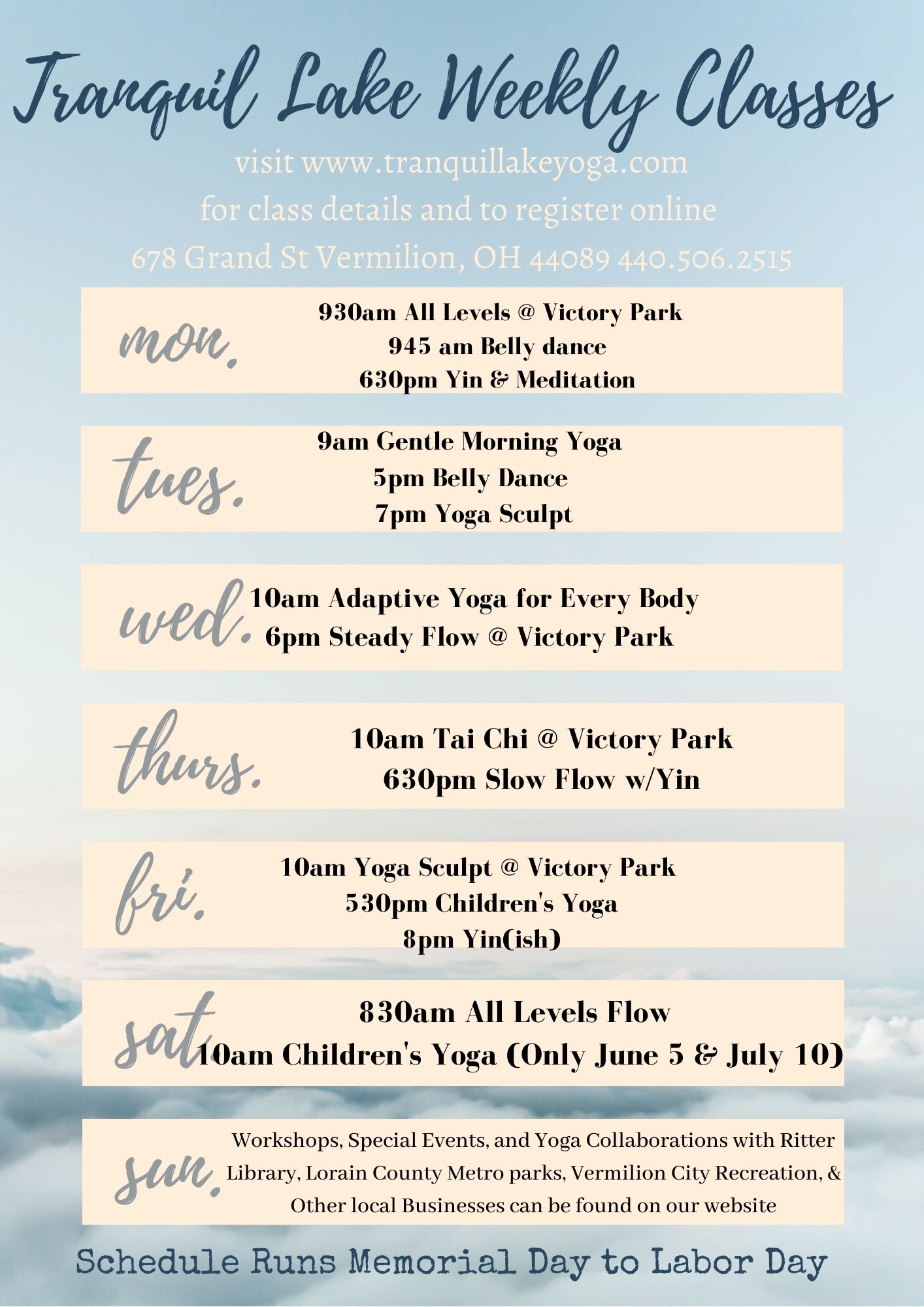 Tranquil Lake Weekly Class Schedule
To book a class, or to learn more about Tranquil Lake Yoga & Wellness, visit www.tranquillakeyoga.com
Monday's 9:30 am to 10:30 am Sunrise All Levels Flow with Lisa @Victory Park
Monday's at 9:45 am Belly Dancing for Fitness With Holly
Monday's 6:30 to 7:30 pm Yin & Meditation with Tonya
Tuesday's 9:00 to 10:00 am Gentle Morning Yoga with Tonya
Tuesday's 5:00pm to 6:00 pm Belly Dancing for Fitness With Holly
Tuesday's 7:00 to 8:00 pm Yoga Sculpt with Zeb
Wednesday's 10:00 am to 11:00 am Adaptive Yoga with Megan
Wednesday's 6:00 pm Strong & Steady All Level's Flow with Danielle @ Victory Park
Thursday's 10:00 to 11:00 am Tai Chi for Arthritis & Fall Prevention with Mary @ Victory Park
Thursday's 6:30 to 7:45 pm Slow Flow with Yin, with Lisa
Friday's 10:00 to 11:00 am Yoga Sculpt with Megan @ Victory Park
Friday's 5:00 pm to 6:00 pm Children's Yoga with Heidi
Friday's 8:00 to 9:00 pm All Level's Yin-ish with Rick
Saturday's 8:30 to 9:30 am All Level's Teacher's Choice with Rick
Select Saturday's 10:00 to 10:45 am Children's Yoga with Heidi
As the owner of Tranquil Lake Yoga & Wellness, Megan Lake-Smith aims to provide a peaceful, welcoming environment in her studio, inviting people from all walks of life. Megan loves to create inclusive wellness experiences for her clients, urging them to come as they are. Megan explores and teaches in many areas of yoga and fitness, and specializes in prenatal, post partum, and women's health yoga practices. Megan completed her 200 hour yoga teacher training at the Yoga & Ayurveda Center in Bangor, PA.
Tranquil Lake Yoga and Wellness came into being in July 2020, as much by a turn of fate as by strategic planning. Megan, a Registered Nurse since 2004, had been edging away from traditional medicine and leaning towards holistic health for many years. During one of the most difficult times in her life, yoga became a safe haven, a place where she could be honest with herself. Without fear of judgement, some days she cried through her yoga session, other days she laughed her way through challenging poses.
Megan had always been drawn to an active lifestyle, healthy eating habits, and wellness in general. Years of nursing had shown her the huge effect diet and exercise had on quality of life. But traditional nursing, and medicine in general, had only touched on the surface of stress management, relaxation, and true peace. Yoga tied in the final element of wellness perfectly.
In August 2020, after taking introductory courses at Lorain County Community College (LCCC) for certificates in Health Coaching and Group Fitness Instruction, Megan made the decision to resign from her position as a nurse educator at LCCC, and pursue yoga, fitness, and wellness full time. Shortly thereafter a couple contacted Megan and her husband, Kevin, about leasing a space in their hometown of Vermilion, Ohio.
The joyous decision to open Tranquil Lake was not difficult, but rather a spontaneous realization that it was just the right thing to do. Megan will be eternally grateful for the opportunity to follow her dream, and is eager to share her love of yoga and all things wellness with each of you.
To book a class, or to learn more about Tranquil Lake Yoga & Wellness, visit www.tranquillakeyoga.com.