Public Art Vermilion, a program of Main Street Vermilion, has begun taking the wraps off The Postcard Project: 15 mural-sized recreations of vintage postcards that depict local history and the nostalgia of Vermilion as a long-time vacation destination.
Every Thursday, from June 25, 2020 throughout August, new postcards and their locations will be revealed via Main Street Vermilion's Facebook Live and Instagram Live. Join in at 6:30 pm and discover each new postcard and their location.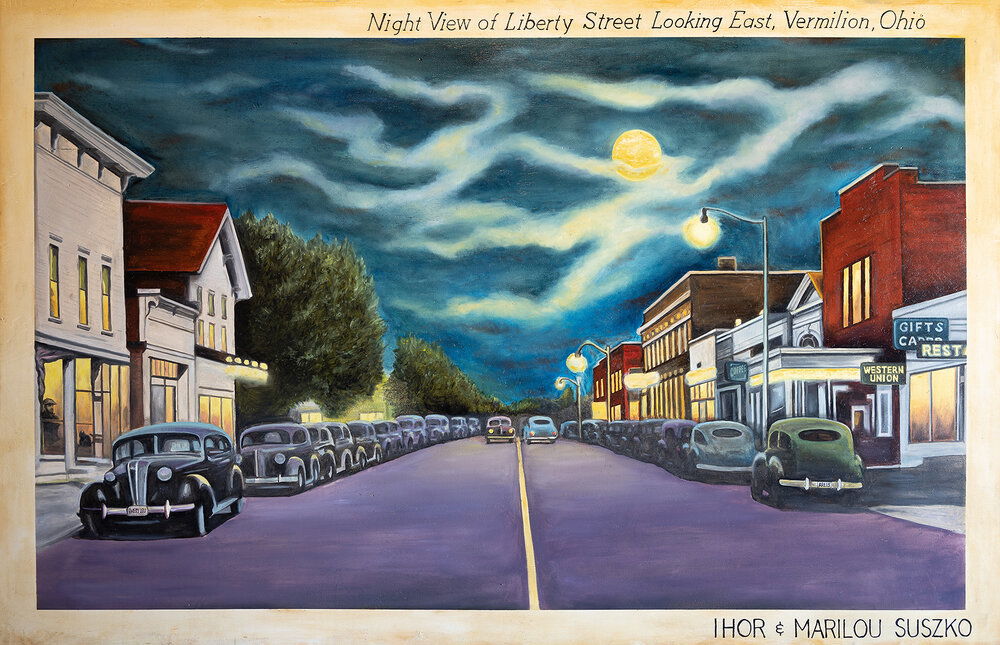 On Thursday, two postcards were unveiled. At Granny Joe's Ice Creamatorium and Papa Joe's Pizza, "Night View of Liberty Street Looking East" was unveiled. At Brewed Awakening Vermilion, "Liberty Avenue Looking West" was unwrapped.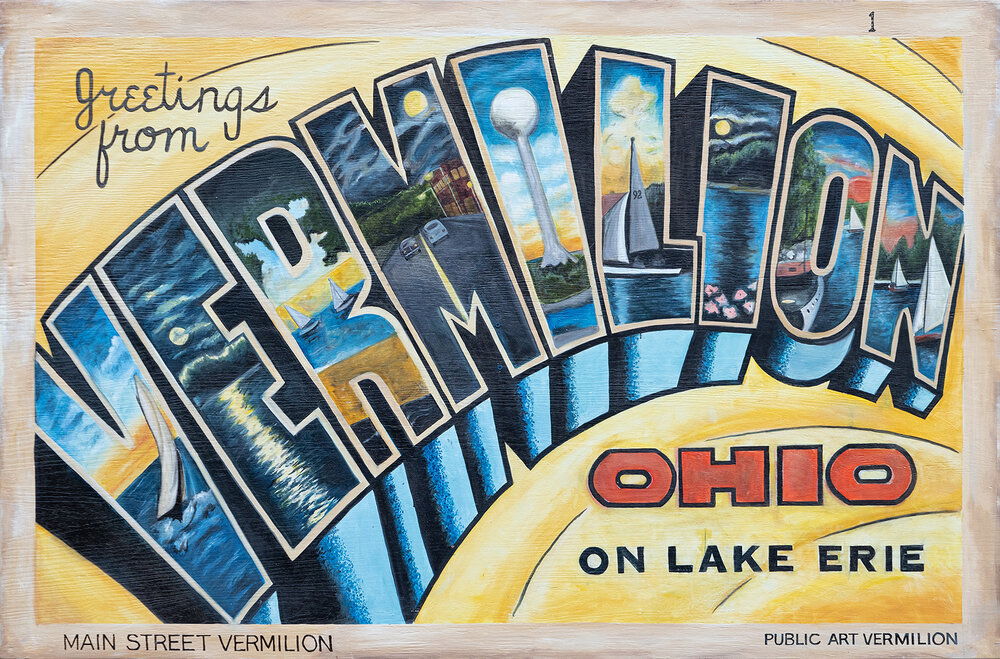 The first postcard kicked off the project on November 6, 2019 when Public Art Vermilion unveiled the first installment in The Postcard Project, a colorful welcome as visitors enter downtown Vermilion. You can see it for yourself located on the south facing wall of 686 Main Street, Tiffany's Flowers, and adjacent to the Grand Division Parking Lot.
Postcards were once a popular way to share travel and vacation experiences with family and friends. The beautiful photos or artwork captured a point in time. Postcard artwork evolved from hand-drawn to woodcuts and lithographs to photographs and depicted popular designs and styles of an era.
Postcards had the unique ability to preserve the history of a place through the images on the front, many of a high artistic quality, and the messages written on the back that often included references to the life and times of the writer.
As a long-time travel and vacation destination, Vermilion has a wonderful representation of vintage postcards found in private collections and at the Vermilion History Museum that speak of the past, our local history and nostalgia.
Local muralists Mike Sekletar and Brian Goodwin were commissioned as the artists for this project. Public Art Vermilion knows that it showcases their vision and talent, and has resulted in a wonderful collection depicting vintage scenes of Vermilion that will be embraced and supported by local residents and sought out by visitors.
Adequate funding is essential to any public art program, both for commissioning art as well as maintaining it and creating opportunities for community engagement. Funding successful public art programs counts on a variety of funding sources including percent-for-art programs, grant awards, corporate sponsorships, community organizations, private developers, fundraising efforts and support from the community. Public Art Vermilion welcomes support, in any measure, from local residents and businesses—anyone who believes in the power of art to connect people, leave an impression and create a sense of identity for our community.