The Vermilion Lighthouse is getting a makeover thanks to grants from Erie County Community Foundation, Randolph J & Estelle M Dorn Foundation, Vermilion Beautification Fund, Vermilion Rotary Club and a donation of paint from Sherwin-Williams Corporate Headquarters. The project was coordinated and partially funded by Main Street Vermilion's Lighthouse Preservation program.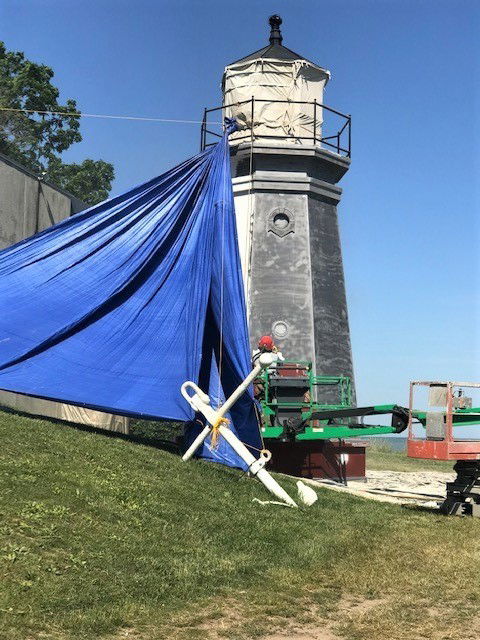 "The lighthouse at Main Street Beach is being sandblasted in preparation for painting," stated Mayor Forthofer. "The project is managed by the Main Street Vermilion Lighthouse Preservation Committee, Reenie Rak, Chairperson. These volunteers hammered together the $15,000 in grants necessary to keep this Vermilion landmark and navigational aid in top shape."
Nothing is more iconic to the local landscape than the Vermilion Lighthouse, which looks out over Lake Erie at the foot of Main Street. There's a rich, deep history to this marvelous structure and a dedicated, ongoing effort to preserve it for generations to come.
Formed in 2014, the Main Street Vermilion's Lighthouse Preservation Committee serves as guardians of the lighthouse, working to educate the public about the historical significance of lighthouses. Within two years, the committee raised funds to have a 5th order Barbier and Fenestre Fresnel lens fabricated. Installed in September 2016, the structure now stands as an active navigational aid. A lighthouse keeper was appointed the same year to carry on the tradition of keeping the structure in good order and the light shining.
Visitors are welcome at the lighthouse any time of day. Nearby is a favorite photo spot for locals and tourists. The familiar 5-ton propeller from the Tug Pennsylvania and the popular anchor salvaged from a Great Lakes cargo vessel are both owned and maintained by Main Street Vermilion.