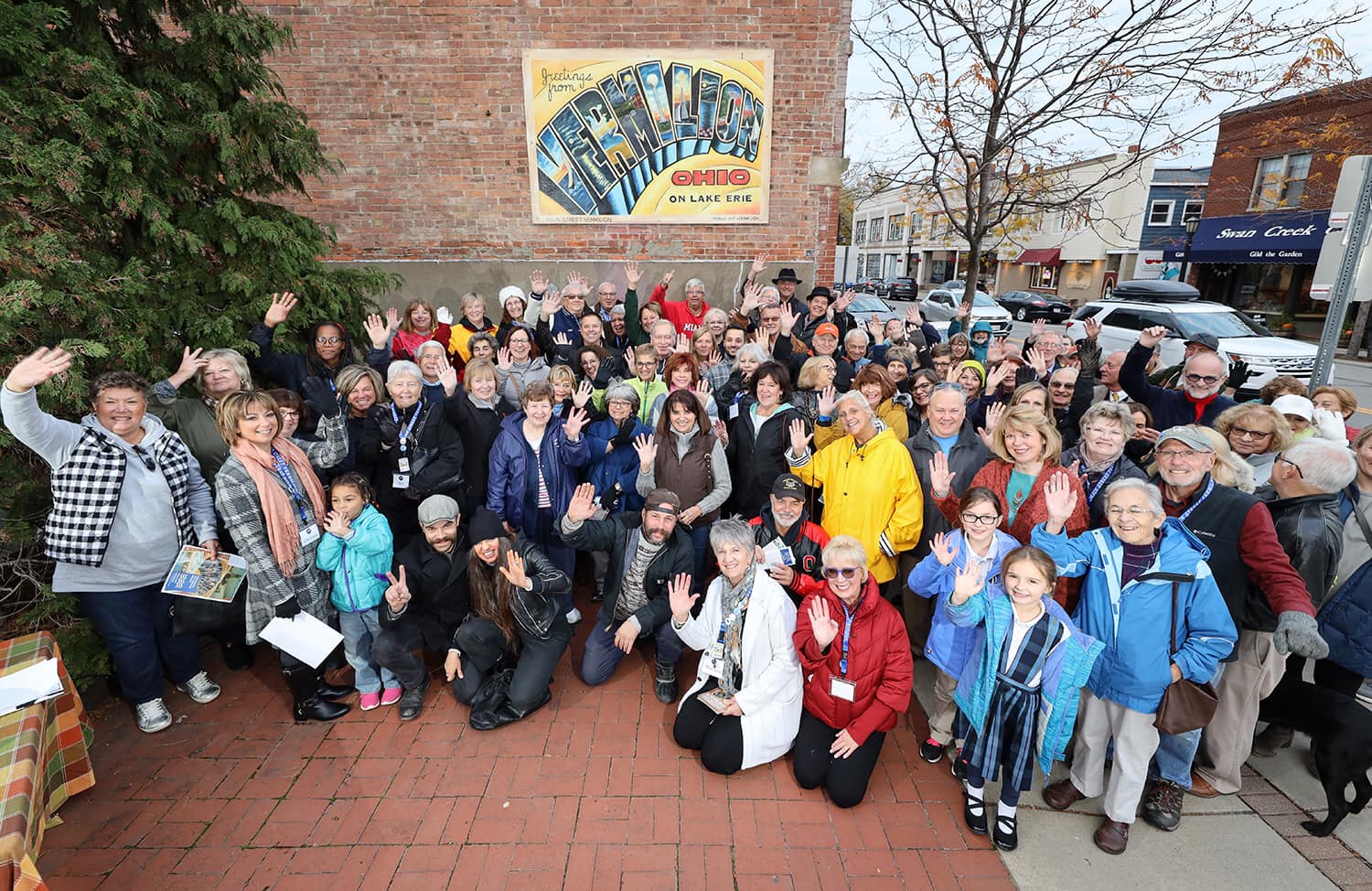 PUBLIC ART VERMILION unveiled the first in a series of vintage postcard recreations on Wednesday, November 6, 2019 at Tiffany's Flowers in downtown Vermilion, Ohio. This is the first in a series of postcards to be installed around Vermilion. Artists are Mike Sekletar and Brian Goodwin.
Main Street Vermilion's PUBLIC ART VERMILION is the newest addition to its family of programs, which includes Vermilion in Bloom, Shore Thing, Lighthouse Preservation and the Vermilion Arts Guild. Each operates within the Main Street Vermilion organization as 501(c)3.
The new program has a goal to beautify Vermilion with public art. It started with a group of artists from the Arts Guild and they developed a vision and mission to what makes Vermilion unique. Through this process, they developed a Public Art Plan.
The group put out a Request for Qualifications (RFQ) to artists earlier this year. They had three finalists - two from Cleveland and one from Lorain. The two men from Lorain were selected by the committee for a project that entails a series of 12 postcards that are going to be hand-painted from vintage postcards of Vermilion. These postcards will be painted on 5' x 8' marine grade plywood and will be placed on buildings and sites around town.
The first postcard, the iconic 'Greetings From Vermilion' postcard, was placed on the wall around the side of the building at Tiffany's so it will be seen when coming over the railroad tracks. Visitors coming into town can stand underneath the postcard for photos.
There are plans to develop a walking tour map. The postcards will not all be in the downtown area. The committee is looking at other nostalgic locations in Vermilion, such as Linwood, VOL Clubhouse, the Lagoons, and the Key Bank Building for Crystal Beach.
The postcards will be up for a period of four years because the artists have guaranteed they will be maintained for four years. Primary sponsors will have the option to keep the billboards up beyond the four years, but it will be up to them to maintain them.
Sponsorship of a postcard is $2,000, the amount the committee is paying the artists. Sponsors will have recognition on the billboard, but it will be subtle. Public Art Vermilion will be responsible for maintenance of the postcards.
"This program has great potential and plans for adding elements of art and points of interest throughout the entire community over time," said Marilou Suszko, executive director for the organization, about PUBLIC ART VERMILION.
The program is co-chaired by Laura Gongos and Debby Zanglin who work with a 20-member advisory board comprised of business owners, community leaders, artists and art enthusiasts. "We are privileged to have a team of experienced, motivated volunteers on board to move this program forward," said Suszko. "Their enthusiasm, creativity and energy has been key in launching this initiative."
"The first question we asked as we explored adding this program was, 'Is the community interested in public art?," said Zanglin, who drew on a long career in market research to get the answer. The survey developed drew more than 430 responses.
"The answer was a resounding 'yes,'" she said. "Many felt that public art could promote the history and culture of Vermilion as well as connect people by creating gathering places around art."
Zanglin added that when asked how they wanted to be involved, the answers reflected a range of preferences. "People want to be engaged whether attending a public art walk or identifying potential locations for public art," she said. "Some want to watch artists create art or help create it themselves while others indicated that performance art, including dance, theatre and concerts appeal to them."
"What was really interesting to discover was that people want to see public art in 'unexpected places,'" added Zanglin, "and it was important to them that it was in parks, on the lake and river fronts, in front of public buildings as well as in their own neighborhoods. We couldn't have been happier with the level of engagement the survey revealed."
Gongos, whose experience and knowledge of public art programs was developed with her involvement in the Pittsburgh area, is confident that Vermilion is ready for a program of its own.
"To many people, public art conjures up images of bronze statues and murals," said Gongos. "If you look at other towns across the country, including many Ohio Main Street communities like ours, public art's wider range included everything from permanent light and water features to one-day, pop-up exhibits and performances."
While Vermilion is blessed with natural charm and a few pieces of public art, there has been no formalized plan to develop and manage public art. "PAV has created a plan that considers best practices of other towns with successful public art programs," said Gongos. "We hope to use art not to just enhance the way our community looks but to encourage educational and economic opportunities as well."
"For Vermilion, public art is an opportunity to create a 'sense of place' and enhance those characteristics unique to our small town" she added. "It's been particularly exciting to see the passion and enthusiasm of our advisory board as we work on our first installation."
"Many identify Main Street with our events like Ice-A-Fair, Chalk it Up and Hot Diggity Dog Day," said Suszko. "Yet it's our programs that concentrate on how our community looks and feels, the history we preserve and the elements that identify us as Vermilion, not just for our visitors but for everyone who lives here," she added. "We think the addition of public art will just add to our pride of place."