Exchange Park
A refreshing place to relax in downtown Vermilion. The beautifully landscaped Exchange Park is located at the northeast corner of Liberty Avenue and Main Street in the shape of a triangle. It was here that the village founding fathers erected a small clapboard warehouse. One room was leased to area farmers and was used for selling or exchanging products. Exchange park is home to a public comfort station housed in an historic building that once served as Vermilion's Police Department.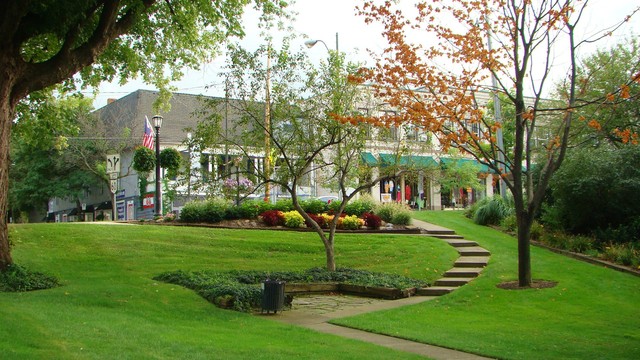 East Exchange Park
A path at East Exchange Park wanders down to the river below, where the fish shanties once stood. Visitors will find seasonal plantings, trees, sitting areas and swings for children. A fantastic view of the Vermilion River awaits you.
Victory Park

Locals and visitors alike enjoy many a concert and festive events at Vermilion's "town square." Weddings are always popular at the grand gazebo. Victory Park is located at the northeast corner of Main Street and Ohio Street. The park is a popular place for people to relax and meet with friends and neighbors. Across the street sits the historic Old Town Hall and Vermilion's famous Auction House. An historic Firelands marker details the history of the area. This park continues to be the most widely used in the area, hosting the concessions for the annual Fish Festival, Woollybear Festival.
Village Green

The Village Green offers beautiful green space across the street from Victory park in front of the historic Old Town Hall (Harbourtown Fine Arts Center) and Vermilion's famous Auction House.
Main Street Beach

Main Street Beach is a public swimming beach in downtown Vermilion, Ohio on the north end of Main Street. Main Street Beach features an observation deck, a kayak/canoe launch, benches, an ADA mobility mat, a comfort station and a concession stand.
Vermilion's Main Street Beach welcomes hundreds of daily visitors from near and far during summer months, inviting all to bask in the sunshine, play in the sand, jump in the water, paddle the lake, and more. The city's beach is a public attraction that few other Ohio towns can boast. With only 17 percent of Ohio's lakefront property along Lake Erie open for public access, Main Street Beach is a precious natural resource treasured by residents and visitors alike.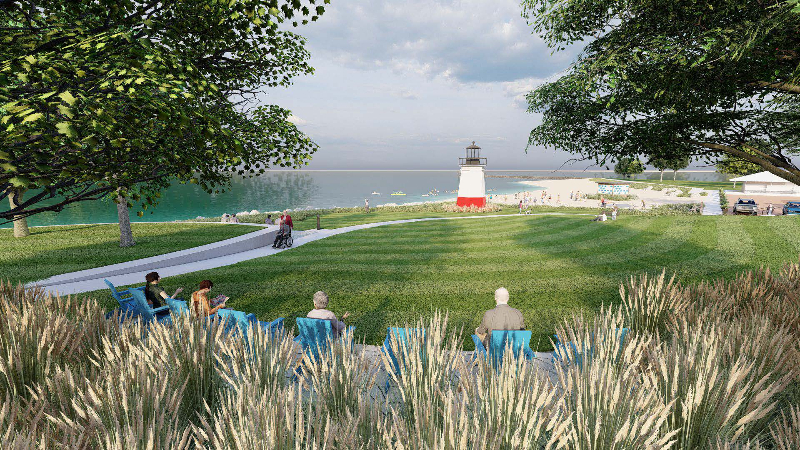 Vermilion's Main Street Beach is a popular destination for wading in the water, swimming, bird watching, building sand castles, beach glass hunting and viewing remarkable sunsets. Here you can also launch a kayak or canoe. Main Street Beach is ADA accessible and features a mobility mat and a sand wheelchair.
The Vermilion Lighthouse, a replica of the original lighthouse that was later moved to Lake Ontario, shines on Main Street in Vermilion. Shore Thing, at Vermilion's Main Street Beach, offers concessions, beach glass jewelry and visitor information.
Friendship Park

Friendship Park offers performance venues and maritime history in this beautiful pocket park in downtown Vermilion. The park is located on the northwest corner of Liberty Avenue and Grand Street beside Ritter Public Library and offers tables and chairs to use for take-out dining from numerous nearby restaurants.
Sherod Park

Located approximately ¼ of a mile to the west of the city, on Lake Erie, this park was donated by the Bessie Sherod Family - a founding family of Vermilion. Featuring green space, trees, natural areas and beaches, Sherod overlooks the breathtaking Lake Erie. This park boasts 2 ball diamonds, 2 picnic shelters, 2 playgrounds, a soccer field and a walking track. Plans have been created to develop this park into a "passive" park.
Hanover Square Park

Nestled in Harbour Town, this park is located at the corner of Ferry and Grand Streets. The park includes a swing set and benches. Located adjacent to the Ritter Public Library, this park attracts many visitors with a book in their hands.
West Breeze Park

Located off of Rt. 60, this pocket park provides a pavilion and playground, along with a rentable pavilion and a large grassy area to play.

Showse Park & Beach

Located in Vermilion on the Lake, this park contains a beach, two ball diamonds, a basketball court, tennis courts, a soccer field, a pavilion and a playground. Located along the shore of Lake Erie, Showse Park gives people the opportunity to stop for a rest or to enjoy the boats and scenes of the waterfront.

Sailorway Complex

This park is used by thousands of people each year. Sailorway Complex includes 5 ball diamonds, 5 tennis courts, soccer field, basketball court, football stadium, restroom and concessions stand. These facilities are along Sailorway Drive, which is accessed from Rt. 60 and from Sanford Street.

Vermilion Skate & Bike Park

Located on the corner of Douglas Street and Devon Drive. This facility features features many different ramps and jumps and can be used with skateboards, bmx, scooters, and inline skates. Helmets should be worn for safety.

Schoepfle Garden

Schoepfle Garden is a truly unique park in the Lorain County Metro Parks system—70 acres of botanical gardens and natural woodland bordered on one side by the Vermilion River. The garden features collections of rhododendrons, roses, cannas, hostas, various shade plants, along with many varieties of shrubs, topiaries and trees. Whether you choose to follow one of the guided tours available throughout the year, or just wander freely at your own pace, it's a wonderful way to spend a morning or afternoon. Be sure to bring a camera!

The formal garden is highlighted by a wide central path lined in part with hedges and topiaries. Side paths wind through colorful arrays of exotic flowers, dogwood and European beech trees. The garden's colors change every few weeks in the warmer months as new species come into bloom. This is truly a place to been seen over and over again. The shade garden runs alongside the formal garden, draped in a cool canopy of pines. You'll find a nice contrast here to the bright and open areas. Various species of shrubs and shade plants line the floor including ferns, hostas and astilbes. There are places to sit and relax, and plenty of room to roam.

In contrast to both the formal and shade gardens are the nearly fifty acres of natural woodlands that lie between the gardens and the Vermilion River. This natural area offers a seasonal display of indigenous trees and wildflowers—a great place for wildflower hikes, birding and tracking. There's plenty of wildlife here as in other parks in the Lorain County Metro Park system, including deer, wild turkey and fox.

Schoepfle Garden is off State Route 113 on Market Street in Birmingham, Ohio. Take St. Rt. 58 north to St. Rt. 113. Go west on St. Rt. 113 to Birmingham. Cross bridge over Vermilion River and turn onto the first road on the left, which is Market Street. The garden is on the left.

Vermilion River Reservation
Spanning two adjacent areas separated by the Vermilion River—Mill Hollow on one side and Bacon Woods on the other—this immaculate park is a favorite of picnickers, naturalists and anyone who just wants to enjoy its natural beauty. If you're looking to picnic in a beautiful place with plenty of activities for both adults and children, this is an ideal place to come. With 273 picnic tables and four reservable shelters, the Vermilion Reservation draws over 230,000 people a year—making it the number one picnic area in the Lorain County Metro Parks system. It's not surprising considering the spotless maintenance, plenty of open space, 5 miles of wooded trails, a playground and two ponds that attract visiting waterfowl year-round.

Surrounded by tall trees and a split-rail fence, you can't miss the picturesque Bacon House Museum and Carriage Barn at Mill Hollow. During museum hours you can walk through the original settler Benjamin Bacon's house, built in 1845. The museum features themes of daily living and puts an emphasis on the community life in Brownhelm, including the profound effect the railroad had on the economy and on people's lives. Just next to the Bacon House Museum, the Carriage Barn offers visitors information about the park and hosts nature programs throughout the year. A large rustic meeting room can be reserved for groups and includes a kitchen and large fireplace.

There's more than natural beauty at Vermilion Reservation. Bacon woods hosts a sizable amphitheater for musical concerts during the warmer months, and the park in general features several special programs including the Annual Car Show (which shows over 1000 cars.) Perhaps the most striking feature of this reservation is the winding ribbon of shale cliffs carved by the Vermilion River. Millions of years old, these cliffs reveal layers of the past and drop bits of sandstone, shale and turtlerock along the riverbed. Since the Vermilion River has no industry along its banks, it is especially rich in wildlife. Aquatic life includes freshwater clams and several species of darters (small fish that feed along the bottom of the river) that turn brilliant colors during the mating season. Some insect species include mayflies, cadis flies and water pennies (beetle larvae that lie flat against a rock surface and look like pennies.)

The park naturally hosts a range of wildlife, but perhaps most singular at Vermilion River Reservation are the bald eagles. These magnificent creatures can be seen almost daily at Mill Hollow, perched in one of the tall trees near the center of the park. Other wildlife at the reservation is more typical of the area and includes Great Blue Heron, Greenback Heron and various geese and ducks. Wildflower lovers come from all over in spring and early summer to see the color and variety of these indigenous species which include Dutchman's britches and Blood Root along with a long list of other species found throughout northeast Ohio.

Rotary Centennial Park

This beautiful Vermilion park overlooks the Vermilion River under the historic water tower on West River Road in Harbour Town. This award winning park features flowering trees, plantings, benches, picnic tables and breathtaking views of the river. The site also features an historical marker plaque highlighting Vermilion's railroad history.

Community Swimming Pool

The Community Swimming Pool at 4846 Pineview Drive is typically open from Memorial Day to Labor Day, daily, weather permitting. Memberships are available.
Nokomis Park

Nokomis Park offers Lake Erie beach access at the end of Minnie Wa Wa Street off Liberty Avenue. Stairs lead down to the beach featuring fantastic views.

McGarvey's Landing

McGarvey's Landing features breathtaking views from the Vermilion River boardwalk in historic Harbour Town. Trees, beautiful planters, benches, picnic tables and more provide a wonderful park-like setting to watch boats sail along the river. Public boat docks are available along McGarvey's landing by the Vermilion Port Authority. Many festivities take place at the boardwalk including lighted boat parades and watercraft races.

Linwood Park

Featuring one of the most beautiful beaches along Lake Erie, this private park is open to the public. A family car pass can be purchased and daily room rentals are available above the Stand. Historic Linwood Park features great picnic areas, basketball and volleyball courts, tennis, shuffleboard and an ice cream stand. Historic cottage rentals are also available. Located at 4920 Liberty Avenue.

Old Woman Creek

Old Woman Creek National Estuarine Research Reserve, a National Estuarine Research Reserve, is located just west of Vermilion on the south-central shore of Lake Erie. Old Woman Creek is one of Ohio's few remaining examples of a natural estuary. As a transition zone between land and water, the site contains a variety of habitats including marshes and swamps, upland forests, open waters of the estuary, tributary streams, barrier beach and near shore Lake Erie. The Reserve supports a diverse and important assemblage of native plants and animals representative of freshwater estuaries. Old Woman Creek estuary is of particular regional and national significance because it is the only National Estuarine Research Reserve on the Great Lakes and the only freshwater estuary in the National System. The Visitor/Research Center overlooks the eastern shore of the estuary. The Center also provides laboratories for ecological research and serves as a focal point for public visitation and educational programs.

Erie MetroParks

The mission of Erie MetroParks is to preserve, conserve, protect, and enhance the natural and unique historical resources of the park district. Further, to provide opportunities for visitors and residents to use, enjoy, understand and appreciate these resources in a responsible, sustainable manner. Over fourteen Erie Metroparks and reservations are found near Vermilion, Ohio.