The Vermilion River, which flows into Lake Erie, endows marina facilities with more than 1,000 boat slips and ramps for easy access to the Lake, earning Vermilion the title of the "Largest Small Boat Harbour on the Great Lakes." Lake freighters are a regular sight on Lake Erie making their way through the Great Lakes.
Lake Erie is the 10th largest lake on Earth. It is bounded on the north by the Canadian province of Ontario, on the south by the U.S. states of Ohio, Pennsylvania, and New York, and on the west by the state of Michigan. The lake is named after the Erie tribe of Native Americans who originally lived along its southern shore.

The wealth of attractions so close to protected dockage makes Vermilion a very popular cruising destination. Rare is the port of call with as much to offer.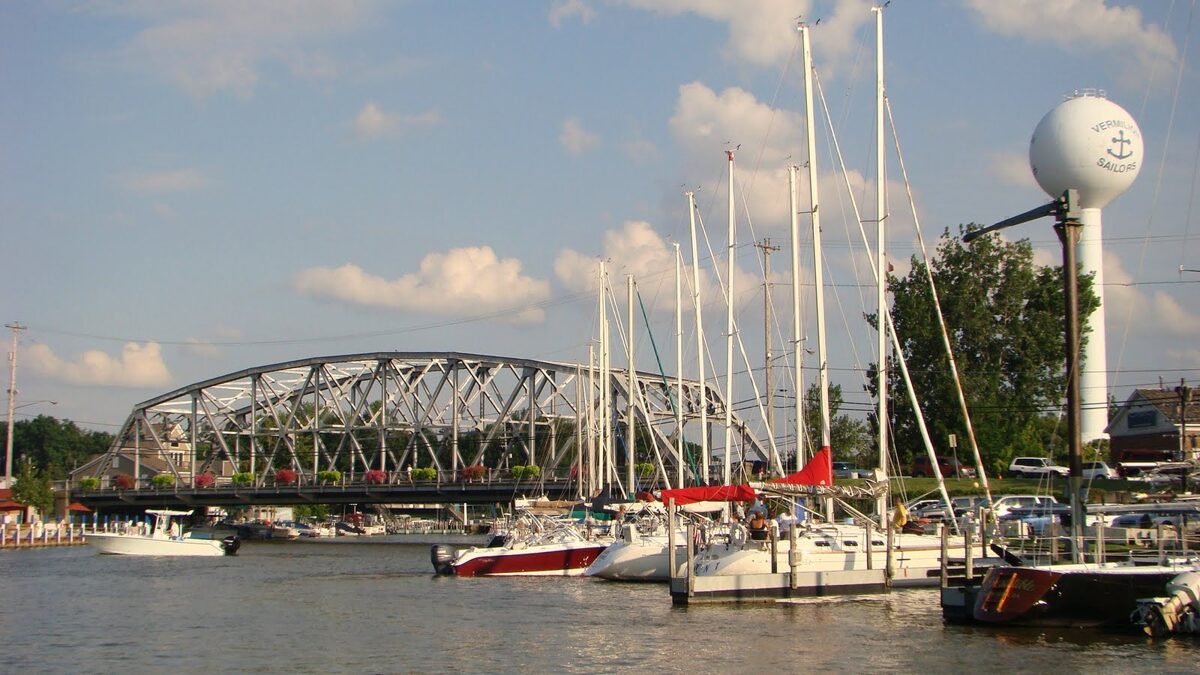 Several Vermilion marinas and boating supply stores cater to your nautical needs.

The Vermilion Port Authority invites you to visit our Vermilion Public Guest Docks. You are in the center of Vermilion's historical district and within easy walking distance of many quaint specialty shops, groceries, ice, restaurants, fast food, historical homes, overnight accommodations, professional services and the Main Street Beach.

Swimmers of all ages enjoy our sandy beaches located in Historic Downtown Vermilion. Recreational boating of every kind, jet skis, canoeing, and sail boats adorn the Vermilion harbor, where ship building was once the major industry.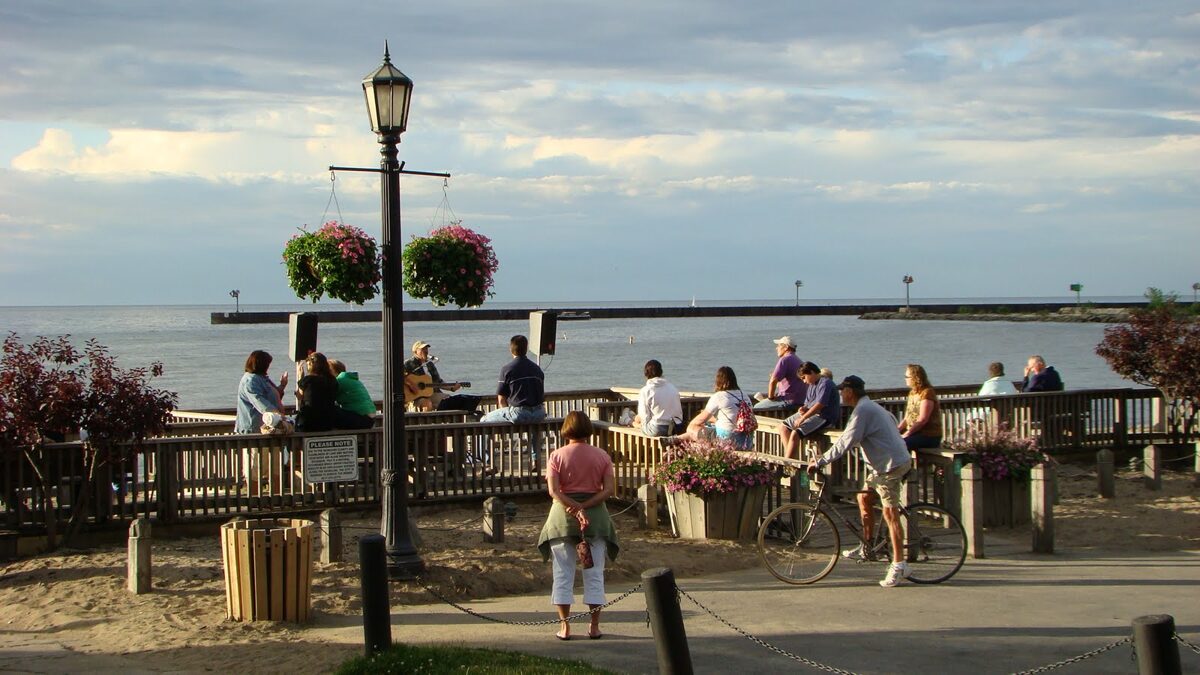 On summer nights, residents and visitors congregate at Main Street Beach to watch boats sail back and forth in front of the beautiful Lake Erie sunset and enjoy the Mystic Belle, a small paddle wheeler, offering rides on the Vermilion River. Also, in the summer the children of our community attend Sail Camp where they learn water safety and sailing.

Lake Erie Shores & Islands is the Midwests hottest, most exciting vacation destination. Located on the southern shore of Lake Erie, the area offers all the calm and relaxation of a coastal vacation as well as many exciting and diverse amusements to please the whole family. Located halfway between Toledo & Cleveland, on the southern shore of Lake Erie, Lake Erie Shores & Islands offers so many attractions for the whole family! From amusement parks, to museums, to watersports, to natural areas and more - everyone will find a great reason to...Explore the Shore Next Door!
Lake Erie Islands
Did you know you could escape to an island, just off the shores near Vermilion? The islands are a Midwest vacation hot spot. Just a short drive to a ferry ride from the mainland, or visit by boat, and you'll forget you are in Ohio! Whatever your pleasure, coastal relaxation or on-the-go excitement, the islands have got it covered! And it's all just minutes away from historic Vermilion, Ohio.
Kelleys Island, listed on the National Register of Historic Places, is an outdoor-lovers paradise, while Put-in-Bay, on South Bass Island, appeals with abundant shopping and entertainment. You can also visit Middle Bass Island, which is dominated by vineyards, old homes, summer cottages, and a campground. Canada's Pelee Island is also accessible by ferry from Sandusky, but does require planning for an overnight stay - the ferry visits Sandusky only once a day in peak season.

The Lake Erie Islands can only be reached by boat or plane. Cars are permitted on all the islands; however, you'll have greater freedom to discover each island's natural beauty by bicycle or golf cart. Rental shops are located within walking distance of the islands' ferry docks.

Kelleys Island

Kelleys Island is a nature-lovers' paradise, whose modest commercial development lends to its appeal. Rent bicycles or golf carts to explore the scenic countryside, visit the largest prehistoric glacial grooves in existence, catch a bite to eat at an island eatery, or simply lounge at the Kelleys Island State Park beach. The island's appeal ranges from natural spaces to rousing nightlife. Birds, wildlife, and hiking trails are abundant,. Enjoy miniature golf, volleyball, horseshoes, one-of-a-kind island shops and confectioneries, and making memories that will last a lifetime.

South Bass Island (Put-in-Bay)

Put-in-Bay is a colorful, Victorian village on South Bass Island . Nightlife and live entertainment rule the summer weekends on this festive island, with national and regional musical acts and comedians. The island boasts a waterfront park, unique shops, eateries, and historical attractions. Explore caves, take a spin on a carousel, and sample the local vintage. Don't miss Perry's Victory and International Peace Memorial, a 353-foot Greek Doric column that is the second tallest free-standing monument in the U.S. It commemorates Commodore Oliver Hazard Perry's defeat of the British in the 1813 Battle of Lake Erie and stands as a memorial celebrating lasting peace between the U.S. and Canada . Take the elevator to the observation platform for a spectacular view.

Middle Bass Island

Explore this island dominated by vineyards, old homes, summer cottages, and a campground. There are few man-made diversions here; instead, many attractions are nature-made: a rocky shoreline, expansive views, and interior wetlands. The Kuehnle Wildlife Area protects a variety of plants and animals. Its 20-acre pond is a favorite spot with bird watchers and fishermen. Still in development, the new Middle Bass Island State Park currently provides limited marina facilities and hiking trails.

Just minutes from Vermilion, discover the Lake Erie Islands.